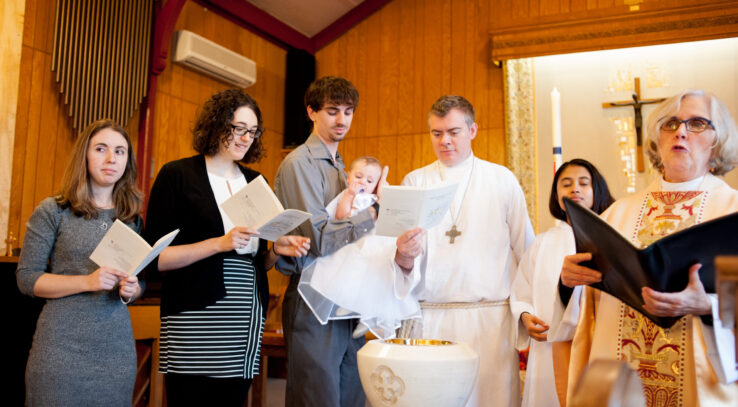 Holy Baptism is the Christian Rite of Initiation
The Sacrament of Baptism joins us to Christ in his death and resurrection and makes us members of the Church – Christ's body. The promises and vows we make in this ritual are significant. For that reason, a period of preparation precedes baptism of all candidates for Baptism. Parents participate on behalf of infants and children, and godparents also are encouraged to participate. Parents need to select committed baptized Christians to undertake the responsibility of becoming godparents.
The whole worshiping community renews its own baptismal vows, promises to support the newly baptized in their new life, and joins in the prayers of welcome for our newest member.
Parishioners who are interested in having a child baptized, or are interested in being baptized themselves, should contact the Parish Office as soon in advance of a desired date as possible.
Our Saviour follows the usual Episcopal Church practice of celebrating Baptism in a regular Sunday Eucharist, with the whole congregation present.
Traditional dates for Baptism are the Feast of the Baptism of Our Lord (January), The Great Vigil of Easter (March or April), Pentecost (late May or early June) and the Sunday following All Saints Day (November).